For full details of all our services and events this month, please refer to the parish magazine, available in church, or contact us.
For enquiries regarding our printed parish magazine, please contact Paul Outhwaite (parishmagazine@freckletonparishchurch.org.uk).
For enquiries regarding our online communications, please contact Craig Eckersley (webmaster@freckletonparishchurch.org.uk).
Special events
Please see the latest supplement (PDF document) for a list of events at Holy Trinity and our partner churches of Freckleton and Warton.
Sunday School Reopening
We are delighted to announce that we are now preparing to restart Sunday School from Sunday 10 October at 09:30. Sunday School will then meet on most Sundays, except the first Sunday of each month We will put further notices in the Parish Magazine, but the earliest announcements will be on social media, and you may also want to keep a lookout for the banners outside church changing. For details, please contact Lynn Slater (sundayschool@freckletonparishchurch.org.uk).
Worship4U
Please join us for our next Worship4U all-age service, on Sunday 7 November at 11:00, led by Rt Rev. Dr Jill Duff, Bishop of Lancaster, with Freckleton C of E Primary School.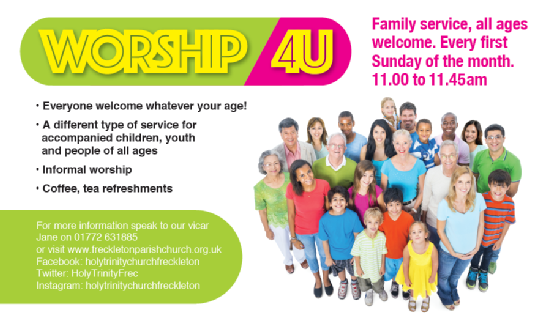 Remembrance Sunday, 14 November
If you are attending our Remembrance Sunday service, please arrive by 10:55, to allow us to observe the Last Post and two minutes' silence promptly at 11:00.
There will be a further village service at the war memorial at 12:15.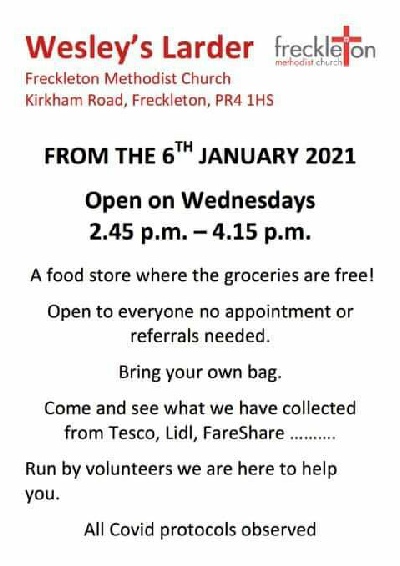 St Paul's Warton diary of events
This is accessible via the 'Diary of Events' link at www.achurchnearyou.com/warton-st-paul.
The order of service for the annual Passover celebration is available to download here:









Sundays:

Holy Communion, 08:30*

1st and 3rd Sunday every month
(2nd, 4th and 5th Sunday at St Paul's, Warton)




Parish Communion, 11:00

(Worship4U every 1st Sunday)




Evensong, 18:00*

2nd and 4th Sunday every month
(1st and 3rd Sunday at St Paul's, Warton; 5th Sunday - see Events)

Thursdays:

Holy Communion, 10:00*




* Regular Sunday 08:30, Sunday 18:00 and Thursday 10:00 services are suspended until further notice.

Holy days:

As announced - see Events page







Please check the Events page for any variations.







Lytham Road, Freckleton, PRESTON,
Lancashire, PR4 1AA