For full details of all our services and events this month, please refer to the parish magazine, available in church, or contact us.
For enquiries regarding our printed parish magazine, please contact Paul Outhwaite (parishmagazine@freckletonparishchurch.org.uk).
For enquiries regarding our online communications, please contact Craig Eckersley (webmaster@freckletonparishchurch.org.uk).
Special events
Please see the latest supplement (PDF document) for a list of events at Holy Trinity and our partner churches of Freckleton and Warton.
Freedom celebration!
Holy Trinity's social events are back! We're having a bash at the Rawstorne Centre on Friday 23 July. Please contact Fred or Craig for tickets.
Worship4U
Please join us for our next Worship4U all-age service, on Sunday 4 July at 11:00, led by Rev. Steve Haskett.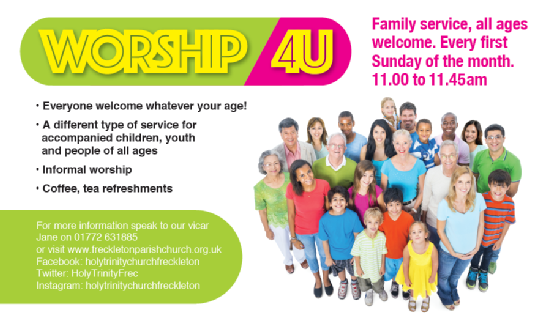 June 2021: Worship4U is back!
We are resuming monthly Worship4U all-age services, usually held on the first Sunday of each month, from 6 June, at 11:00.
March 2021
We are pleased to announce that we are resuming our Sunday 11:00 services from Easter Sunday, 4 April. We are also holding a Holy Communion service at Holy Trinity at 10:00 on Maundy Thursday,
1 April, and there will be Stations of the Cross at St Paul's at 14:00 on Good Friday, 2 April.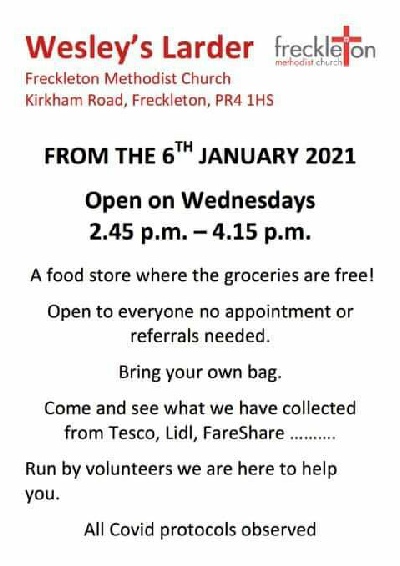 St Paul's Warton diary of events
This is accessible via the 'Diary of Events' link at www.achurchnearyou.com/warton-st-paul.
The order of service for the annual Passover celebration is available to download here:









Sundays:

Holy Communion, 08:30*

1st and 3rd Sunday every month
(2nd, 4th and 5th Sunday at St Paul's, Warton)




Parish Communion, 11:00

(Worship4U every 1st Sunday)




Evensong, 18:00*

2nd and 4th Sunday every month
(1st and 3rd Sunday at St Paul's, Warton; 5th Sunday - see Events)

Thursdays:

Holy Communion, 10:00*




* Regular Sunday 08:30, Sunday 18:00 and Thursday 10:00 services are suspended until further notice.

Holy days:

As announced - see Events page







Please check the Events page for any variations.







Lytham Road, Freckleton, PRESTON,
Lancashire, PR4 1AA